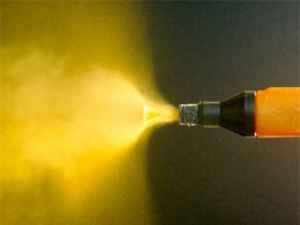 Benefits of Powder Coating Supplies:
Environmentally Safe
Corrosion Resistant
Durable, Flexible Coatings
One Coat Application
Production powder coatings are made from finely ground plastic particles consisting of pigments, resins, binders, fillers and hardeners. When baked, these plastic particles melt to form a continuous film, which is typically a very durable, chemically resistant coating. Since they are applied as a dry material, powder coatings contain very little, if any, volatile organic compounds (VOCs) and offer the best available alternative for low emissions in the coating industry.
Production powder coatings can be protective, decorative, or both. They can be formulated to meet a wide variety of appearance and performance characteristics including: color, gloss, texture, film thickness, hardness, UV and chemical resistance. Powder coating supplies are also available for high-heat applications. The decision as to which powder coating to use is dependent on the specific requirements of the finished product. Powder coatings can be formulated with very smooth finishes, hammertones, wrinkles, and metallics and are typically applied as a one-coat system.
If you're looking for powder coating supplies you've come to the right place. Midwest Industrial Coatings, Inc. is in the business of supplying products for industries that need paint, and since that's our business, we ensure we have what the customer wants. That is why we can meet your powder coat needs. We provide powder coating companies with industrial powder coating that can be decorative or protective. We also provide powder coat supplies that are both.
Our powder coating services deliver powder coating to your specifications. We can formulate your order to produce smooth finishes, hammertones, wrinkles or metallics. These are usually applied with only one coat. The specific characteristics of the powder coat can also be formulated to your specs. We can produce specific colors, formulate for textures and gloss, film and other characteristics that you may require, such as hardness, thickness, chemical resistance and protection against UV exposure. We can also formulate your industrial powder coating specifically for high heat applications.
Powder coating supplies are both durable and flexible. They are highly corrosion resistant, and with proper maintenance, simply washing it down with soap and water every six months, depending on the severity of conditions surrounding the operating environment, should make it last 20 years. When the industrial powder coating is applied correctly, it won't chip, peel or crack when applied to metal, as conventional could.
Industrial powder coatings are made from plastic that is finely ground, and, when baked, melt to form a continuous film. This is what helps to make powder coat durable and chemically resistant. They contain very little volatile organic compounds since they are applied as a dry material. This gives them one of the lowest emissions in the coating industry. The beautiful thing about powder coating is the nearly endless variety of colors and finishes. They can be applied in a wide range of thicknesses, depending on the requirements of the application. Call us today for your powder coating supplies, we look forward to working with you.