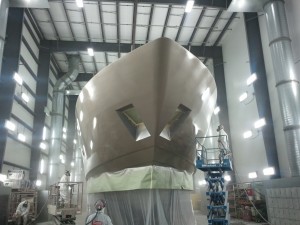 Benefits of Solvent Based Coatings
High Gloss-Excellent DOI
Resists Fading and Chalking
Hard Durable Finish
Chemical Resistant
We offer a complete line of production-ready, high-quality urethane topcoats, e-coat and epoxy primers for use in the Automotive, Industrial, Recreational Vehicle, Heavy Machinery and Agricultural market segments. These coatings offer excellent color and gloss retention and provide a durable finish that stands up to chemicals, humidity, salt, acids, oils, impact, abrasion and excessive wear.
Products are available in a variety of formulations suitable for use on both metals and plastics. Two-component coatings can be formulated for maximum production efficiencies and are user friendly and can often be applied wet on wet. They are available in conventional solids as well as high solids for reduced VOCs (volatile organic compounds).
When your business depends on paint, you know the importance of a reliable and knowledgeable paint supplier. However, reliability and expertise aren't always enough. You need a supplier that can give you the range of products that you need to perform your jobs. Midwest Industrial Coatings, Inc. is that supplier. We've been in the business a long time and we know the challenges you often face when trying to meet the demands of your customers. That's why we offer a full line of solvent based paint to ensure we can provide what you need, when you need it.
Whether you are in the Automotive, Agricultural, Recreational Vehicle, Industrial or Heavy Machinery market segments, we have solvent based coatings to suit your application. All solvent based coatings are not alike, and not every solvent based paint works for every job. That's why we offer a complete line of high-quality urethane topcoats, e-coat and epoxy primers that produce durable finishes that stand up to the harshest environments.
We understand that you may work in an industry or geographic location that requires reduced volatile organic compounds (VOC), therefore we offer high solids for just those needs. We offer conventional solids as well, because not all applications are alike. Our solvent based paints are high gloss with an excellent distinctness of image (DOI) and have a finish that will stand up to environments that will retain the gloss often needed by machinery that is branded by its color. The paints we supply will endure salt, chemicals, humidity, abrasion, oils, acids and excessive wear. Rest assured, we supply you with a paint you can rely on, and that your customers can rely on as well, and that means repeat business for you and for us.
Our products are available in a number of formulations that can be used on both metals and plastics. We can provide two-component coatings to help maximize your productivity and that can be applied wet on wet for maximum efficiency. If you're looking for a new solution, give us a call.