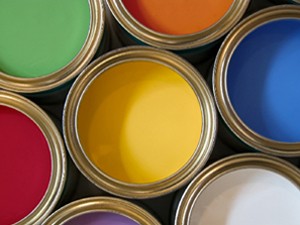 Waterborne Coatings: The Benefits
Durable Finish
Corrosion Protection
Environmentally Safe
Clarity & Consistency
 Tough, long-lasting, and reliable, the exceptional performance of waterborne coatings provide unparalleled protection for all of your production products. These provide your products with a distinct and consistent performance advantage. They deliver corrosion resistance with excellent fade resistance, strong color retention, and superior adhesion.
These coatings are fully compliant with all EPA regulations. They are non-hazardous, non-toxic, and non-flammable. Safe for your employees, your customers, their customers, and the environment. Easy-to-use, single-component and the two-component coatings are custom-formulated and tested to meet your exact requirements for color, durability, and application. We offer them at a price that's probably comparable to what you are currently paying for a non-customized solvent-based system.
We're in the paint business and so are you. We understand how rapidly the industry is changing due to increased environmental regulation. If you want to stay in business, you have to change too. There are two ways you can comply with EPA and other regulations: you can change your plant to accommodate the new regulations – a significant capital investment – or you can simply change the paint you use. Either will ensure that you are in compliance. The upside is it will be a healthier working environment for you and for your employees.
Solvent-based paints are increasingly under fire from regulators. Fortunately, the coatings can replace solvent based coatings for many applications. They are durable, corrosion resistant, fade resistant, come in strong colors, and achieve superior adhesion. Best of all, waterborne paint is 100% compliant with clean air regulations.
At Midwest Industrial Coatings, Inc., we supply industries with the paint they need to get the job done. Our waterborne epoxy coatings can be formulated to meet your exact specifications for color and durability. If you specify an application method, we custom-formulate our waterborne paint to meet your requirement.  And often at a lower cost than you would pay for solvent-based systems. We provide single-component and two-component waterborne coatings that are fully tested before we deliver them.
Waterborne paint (specifically, waterborne epoxy coatings) provide a high-gloss finish with excellent corrosion protection. It does not require thinners, additives, or hardeners. This coupled with the fact that you will need less paint to cover the same surface area as a solvent-based paint saves you money.
Application is simple. Paint guns can be cleaned without toxic solvents.
Waterborne paints make ideal primers due to good heat and abrasion resistance.
Give us a call today.